Sutter Creek – Wedding Venues & Party Rentals
Hanford Courte
128 Hanford Street (Hwy. 49)
Sutter Creek, Ca 95685
209-267-1750
hanfordcourteweddings@gmail.com
http://hanfordcourte.com/
Hanford Courte is an garden/outdoor wedding and event venue located in beautiful Sutter Creek, the heart of the Gold Country in Amador County. A romantic wedding and reception venue in a beautiful garden setting. Hold your ceremony and reception in a park-like setting with a magnificent waterfall, terraced lawns, rock walls, flowers gardens and majestic oak trees are among the special features awaiting you for your special day in the Sierra Foothills of Northern California. Perfect venue "For all of life's other celebrations."
Rancho Victoria Vineyard
16920 Greilich Rd
Plymouth Ca 95669
209-600-2552
cindy@ranchovictoriavineyard.com
http://ranchovictoriavineyard.com
Our scenic private estate is located at the base of the Shenandoah Valley wine region. Panoramic views, rolling hills and majestic oaks surrounding the 120 acres of Gold Country vineyards, makes this the perfect place for your dream wedding.
– John and Cindy Sweigart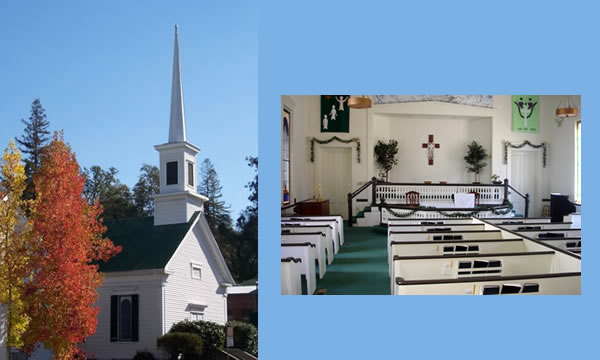 Creekside United Methodist Church
This beautiful, historical, and classic church is the perfect venue for a wedding. The charm radiates inside and out and is located in the heart of Sutter Creek, the Jewel of the Motherlode. With a large social hall attached, complete with a kitchen, it is perfect for the reception too.
One of the first sermons preached in Sutter Creek was delivered by Rev. William Hurlbott in Hardings Bar in 1852. The current United Methodist Church was built in 1862, and just celebrated its 154th anniversary of worship. The church underwent an extensive social hall addition in the 1960's and added its steeple in the 1974.
Today, Creekside United Methodist Church serves the extended Sutter Creek and Jackson community. It is a meeting place for several community groups, as well as for church services on Sunday. It offers an excellent venue for weddings, for members and non-members alike. We invite visitors to come and attend a service and enjoy the atmosphere and ambiance of our quaint, old church.United Methodist Church of Sutter Creek
Office Hours
Cyndy Larson, Church Administrator. Office hours: Monday and Tuesday from 9am to 1pm.
Tom Widlund, Pastor. Office hours: Tuesdays from 9am to noon.
Pastor Samantha Widlund.
For questions on scheduling a wedding, please call (209) 267-0226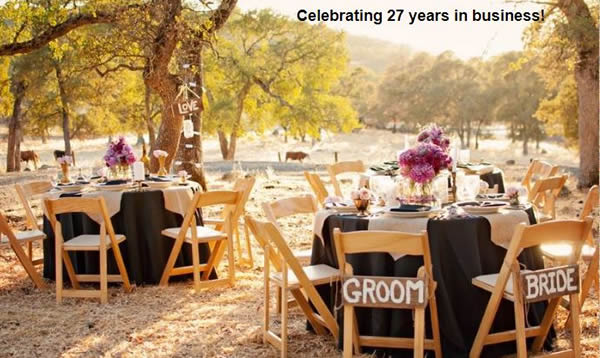 Party Smart Rentals
95 Old Ridge Rd.
Sutter Creek, CA 95685
209 267-5822
partysmartrents@aol.com
http://www.partysmartrentals.com
The Sierra Foothills top choice in party rentals with 23 years in business-where there is never a deposit for your event. It's never too late to make your party plans! BUT better to make them early! Let us help you to plan for the event of a lifetime and within your budget! Party Smart Rentals brings you full party rentals with a strong commitment to Excellence in Customer Service.