Sutter Creek is set like a diamond in the heart of the Amador Wine Country and is the very essence of a California Gold Country town.
Peter Fish, of Sunset Magazine, wrote that "Sutter Creek is the best town in the Gold Country … a Main Street lined with balconied 19th-century buildings. The prettiest Main Street you've ever seen? Quite possibly."
A wonderful balance of old and new, today's Sutter Creek maintains its Gold Rush facade while catering to the wants and needs of visitors from around the world. Shop, dine, slumber, stroll, wine taste, and enjoy the quaint atmosphere of Sutter Creek … the Gold Country's most walkable town with B&Bs, restaurants, wine tasting rooms and shops along the main street.
Sutter Creek, the jewel of the Mother Lode, is steeped in history being born of the California Gold Rush and nurtured by the deep rock gold mines of the 19th & 20th centuries. It is also the perfect hub to explore the Sierra Foothill Wine regions including Amador's own Shenandoah Valley, El Dorado County's Fairplay region and Calaveras County's wine region.
Sutter Creek also attracts travelers from San Francisco, Sacramento … people en route to Tahoe and Yosemite! The town's proximity to Highway 88 into Kirkwood and Highway 49 through the Gold Rush country makes Sutter Creek an ideal stopover for local to International travelers. (Check the weather.)
Recent Press! EXPLORING GOLD COUNTRY: 24 HOURS IN SUTTER CREEK, CALIFORNIA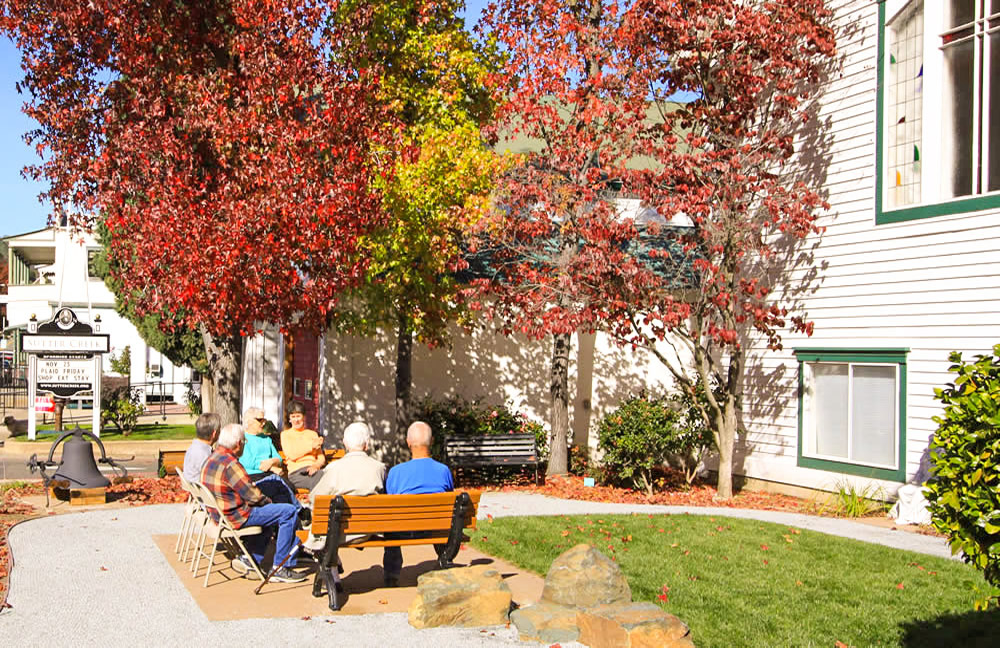 Fall in Sutter Creek
Sutter Creek is the perfect spot to stroll historic streets while savoring the crisp autumn air during the city's most colorful season. Walk along wooden sidewalks, explore unique boutiques, dine in sidewalk cafes and enjoy the autumn months with outdoor events, Halloween haunts, inspired wine tasting rooms, restaurant cuisine to toast the season and more. There's plenty of reasons to visit Sutter Creek during the Harvest Season.
"The second visitors walk into this town, they're greeted with buildings that appear, at first, as though they haven't changed one bit from what one might imagine a wild west town to be. With high balconies and traditional architecture, this town beckons one to explore its numerous antique shops, boutique stores, outdoor sidewalk sales, and dining establishments."
~ May 2021 Article, TheTravel.com