Sutter Creek – Historic Sites & Tours
Sutter Creek Visitor Center

A must stop while in Sutter Creek is the Visitor Center. There you will find historic photos, artifacts, information on just about everything and welcoming and smiling docents that will be happy to answer your questions.
Located at 71A Main Street in Sutter Creek. Open 7days, 11am – 4pm (hours may vary) (209) 267-1344
Knight Foundry

Sutter Creek's Historic, Industrial Crown Jewel. The Knight Foundry, set in the heart of Sutter Creek, California, is America's last water-powered foundry and machine shop. Established in 1873 by Samuel Knight, this extraordinary facility includes the unique historic equipment and machinery, still in place in its original context, just as it was during its Gold Rush-era heyday.
Knight Foundry is nationally recognized as a National Historic Mechanical Engineering Landmark and a California Registered Historical Landmark. The Foundry is listed on the National Register of Historic Places and was named by the National Trust for Historic Preservation as one of America's eleven most endangered historic places.
2nd Saturday Self-Guided Tours at Sutter Creek's Historic Knight Foundry
Knight Foundry in Sutter Creek is America's last water-powered foundry and machine shop and a premier relic of Mother Lode gold mining history. Join us for a Self-Guided Tour on the second Saturday of every month. No reservations needed.
Hours: Knight Foundry opens at 10 a.m and the last tour tickets are sold at 3 p.m.
Admission is $15 for adults 18 and older, $5 for students age 5-17, free for children under 5.
PRIVATE TOURS
Private tours are available by appointment, $15 per person, minimum $100.
To schedule a private tour: info@knightfoundry.com or 209-560-6160.
More info: https://knightfoundry.com
Gold Mine Trail Sutter Creek
All Amador mines including the Central Eureka Mine were closed in 1942. The Central Eureka reopened in 1947 and continued strong until its August, 1958 closure. The City of Sutter Creek received the 17-acre site as a gift from private owners, and walking trails will be established around the preserved headframe and stamp mill. The brochure has a map and descriptions of each Amador County Gold Mine.
» Download the map and brochure here.
Historical Walking Map of Sutter Creek
Sutter Creek is Amador County's most walkable town. Come and explore on foot!
Historic Kennedy Gold Mine Surface Tours
The Kennedy Mine, located near Jackson California, is famous for being one of the deepest gold mines in the world (at 5912 feet), demonstrates how gold changed an entire way of life in California.the Kennedy Gold Mine produced approximately $34,280,000 in gold according to the CA Dept. of Conservation.
One of the tallest head frames in existence today can be seen at the Kennedy Mine. The mine also had one of the largest stamp mills in the Mother Lode, moving tailings by means of huge wooden wheels, some of which are still standing.
The Kennedy Mine, is open every Saturday, Sunday and Holiday from 10 AM to 3:30 PM, March through October. FREE Admission. Guided tours are available at 10:15 AM, 12:15 PM and 2:15 PM. Guided Tour tickets are: $12.00 for ages 13 to adult, $6.00 for youngsters 6 through 12, and free to those under 6.
Historic Sutter Creek Cemetery Tour
You are welcome to visit this and other pioneer burial grounds for historical study, genealogical research or a peaceful walk.
In 1890, the 230 acre parcel of land where the Preston Castle stands was purchased from the Ione Coal & Iron Company for $30 per acre with 100 acres donated. The land was purchased to house the Preston School of Industry, established by the State Legislature as a progressive action toward rehabilitating, rather than simply imprisoning, juvenile offenders. The Preston School of Industry remained open until 1960 when new facilities for the school were completed. The building remained vacant and fading into disrepair until September 10, 2001 when The Preston Castle Foundation received a fifty-year lease for the property. The Preston Castle has also been named a California State Historical Landmark (#867) and is listed on the National Register of Historic Places (NPS-75000422). The Preston Castle Foundation received ownership of the Preston Castle and surrounding 12.91 acres on November 7, 2014.
Public tours are available most Saturdays, April 6 to August 31. Guided tours are led by a trained docent, who will guide you through the Castle. They are scheduled for 1:00 pm, 1:30 pm, and 2:00 pm., limited to 3 groups of 16 guests each. They will last about 60-70 minutes and tickets may be purchased in advance online: http://www.prestoncastle.com/.
Monteverde Store Museum
The Monteverde Store Museum, which opened as a country store in 1896, still displays all the paraphernalia of the past on its shelves. Dry goods, hardware, bulk products, apparel, patterns, even penny candy were on hand for local shoppers. It is preserved as it was in 1971 when the last owner closed the doors for a few days and never reopened.
OPEN!
Saturdays & Sundays from 11-3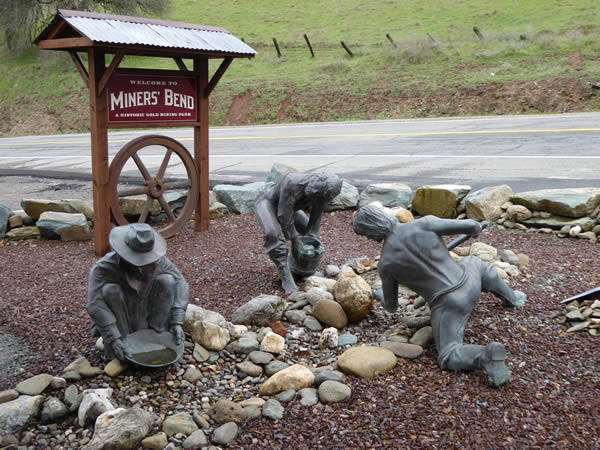 MINERS' BEND PARK
The Sutter Creek Community Benefit Foundation transformed one of Sutter Creek's parking lots into an amazing historical display of Gold Mining history. Artifacts from the Argonaut Mine and the Sutter Gold Mine have been donated to show visitors and residents the rich Sutter Creek Gold Mining history. Along with the mining artifacts, the new passive park has informative plaques for the artifacts, picnic benches, trees, and "Chinese" rock walls lining the park, which are historic for the area.
More info: https://suttercreekfoundation.org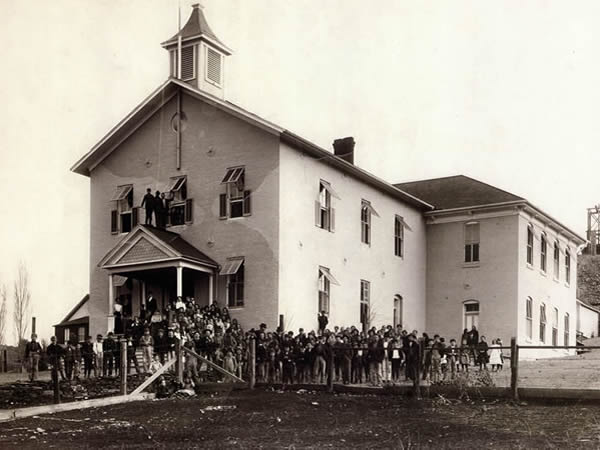 HISTORIC SUTTER CREEK SCHOOLHOUSE
The schoolhouse is rich in Gold Rush history. The original Sutter Creek School, built in 1856, burned to the ground in 1870. The building you see today, a thirty-five by fifty-five foot, two-story brick schoolhouse was built in 1870 by a community funded project of $10,000. Some 200 to 300 children from as far away as Plymouth and Latrobe attended the school each year. In 1896 the school district raised $5,000 in bonds to add the wings in the rear of the building. The school remained open until the early 1960s. The schoolhouse is now on lease to the City of Sutter Creek. It is now in need of renovation, and when completed, it will house a community museum, Sutter Creek archives, and will be available to the public for meetings, events, and other activities.
More info: https://suttercreekfoundation.org