Sutter Creek is home to some of the most unique and interesting shops in Amador County. Main Street Sutter Creek is lined with a variety of Antique Shops, Clothing Stores, Gift Shops and Art Galleries. Enjoy browsing these Sutter Creek shops while partaking of our historic small town atmosphere. California Gold Country Shopping at it's finest.
Romancin' the Range showcases a unique selection of women's apparel for everyday and romantic selections for special occasions. Glitzy jewelry, belts, scarves, home furnishings, etc.
Hours
Open 7 days a week: 11am-5pm
Natural fibre clothing, artisan jewelry, stylish accessories, fashionable hats, comfortable footwear, practical handbags, designer sunglasses, eye-catching watches and more. Plus a knowledgeable, helpful staff.
We are open every day from 11:00 a.m. until 5:00 p.m. or by appointment.
Three animals, 20 countries, 80 cheeses – imported and domestic, cow, goat and sheep milk cheeses sourced from artisanal cheesemakers and small dairies. New cheeses arrive four times a week; special orders are welcome.
Proudly offering our wines, Miller Wine Works. Artisan wines handcrafted by Gary Miller, since 2000. Fruit sourced from sustainably farmed vineyards in the Sierra Foothills.
Hours
Open 7 days-a-week from 10:00am until 5:00 pm.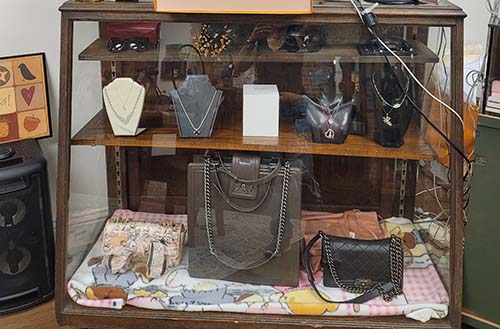 Ambiance Home Décor & Boutique
30 Main Street
Sutter Creek, California 95685
Bright + Beautiful
Curated gift boxes and baskets take the guess work out of giving a perfect gift. Select from one of our themed baskets or design your own by shopping our individual cart or by chatting with one of our gift specialists.
Purchase Aprons, Caps, Tee Shirts and Pinkerton patterns. Available at the Knight Foundry Monthly Tours and by phone.
See the Knight Foundry merchandise here.
Sutter Creek's Historic, Industrial Crown Jewel. The Knight Foundry, set in the heart of Sutter Creek, California, is America's last water-powered foundry and machine shop. Established in 1873 by Samuel Knight, this extraordinary facility includes the unique historic equipment and machinery, still in place in its original context, just as it was during its Gold Rush-era heyday.
Knight Foundry is nationally recognized as a National Historic Mechanical Engineering Landmark and a California Registered Historical Landmark. The Foundry is listed on the National Register of Historic Places and was named by the National Trust for Historic Preservation as one of America's eleven most endangered historic places.