Sutter Creek is home to some of the most unique and interesting shops in Amador County. Main Street Sutter Creek is lined with a variety of Antique Shops, Clothing Stores, Gift Shops and Art Galleries. Enjoy browsing these Sutter Creek shops while partaking of our historic small town atmosphere. California Gold Country Shopping at it's finest.
Romancin' the Range showcases a unique selection of women's apparel for everyday and romantic selections for special occasions. Glitzy jewelry, belts, scarves, home furnishings, etc.
Hours
Open 7 days a week: 11am-5pm
Natural fibre clothing, artisan jewelry, stylish accessories, fashionable hats, comfortable footwear, practical handbags, designer sunglasses, eye-catching watches and more. Plus a knowledgeable, helpful staff.
We are open every day from 11:00 a.m. until 5:00 p.m. or by appointment.
Three animals, 20 countries, 80 cheeses – imported and domestic, cow, goat and sheep milk cheeses sourced from artisanal cheesemakers and small dairies. New cheeses arrive four times a week; special orders are welcome.
Proudly offering our wines, Miller Wine Works. Artisan wines handcrafted by Gary Miller, since 2000. Fruit sourced from sustainably farmed vineyards in the Sierra Foothills.
Hours
Open 7 days-a-week from 10:00am until 5:00 pm.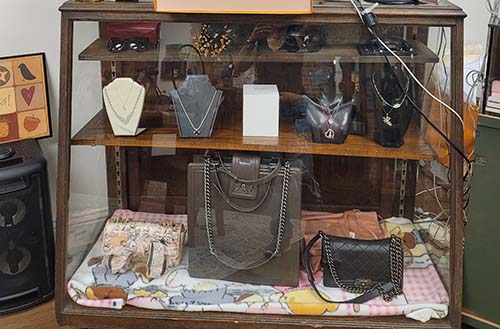 Ambiance Home Décor & Boutique
30 Main Street
Sutter Creek, California 95685