Sutter Creek Gift & Home Decor Shops
Sutter Creek is home to some of the most unique and interesting Gift & Home Decor Shops in Amador County. Main Street Sutter Creek is lined with a variety of Gift Shops as well as shops for decorating your home. Enjoy browsing these Sutter Creek shops while partaking of our historic small town atmosphere. California Gold Country Shopping at it's finest.
A unique blend of new and old awaits shoppers at The Antique Gardener. Enjoy shopping for terra cotta planters with moss patina, Guy Wolff pottery, garden ornaments and statuary, hummingbird feeders, cards and gifts and seasonal decor.
Browse an ever-changing selection of European and American antiques, specializing in galvanized tubs and planters, metal garden chairs and architectural salvage. Soaps, lotions and candles lend fragrant counterpoint to the inviting displays. Succulents, herbs, perennials and unique containers filled with freshly planted flowers can be found in the garden outside.
Drop into The Antique Gardener Wednesday-Sunday 11-5.
EPCO Emporium
6 Main Street #A
Sutter Creek, CA 95685
Phone: 209-267-0337
Facebook
Beautiful store with unique and hand crafted items! Wonderful place to shop with unusual gifts and fantastic signs created. Plus a large variety of merchandise. Guest review: "We went with our family for a outing in Sutter Creek today. This shop is just amazing! So many cool unique items to chose from. Can't wait to shop here again."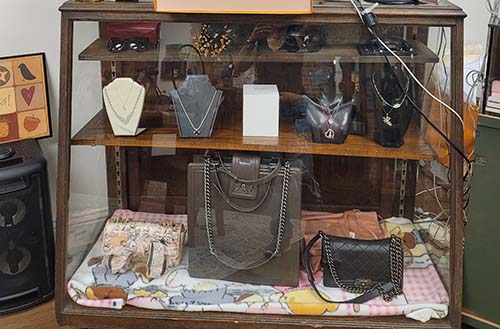 Ambiance Home Décor & Boutique
30 Main Street
Sutter Creek, California 95685
Bright + Beautiful
Curated gift boxes and baskets take the guess work out of giving a perfect gift. Select from one of our themed baskets or design your own by shopping our individual cart or by chatting with one of our gift specialists.