Sutter Creek Annual Father & Daughter Dance
Saturday, February 22, 2020 from 6pm to 8pm
Sponsored by: Sutter Creek Business & Professional Association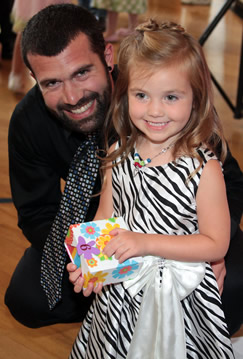 Create some special memories that Father and Daughter will never forget. An evening dressed in your finest outfits and dancing the night away to all the music that kids love. Don't miss this special Father Daughter Dance, an evening to cherish for a lifetime.
Tickets are $20 for 2 (Father & Daughter) and $10 for each additional child.
Purchase your tickets at either of these Sutter Creek locations:
• Choc-O-Latte Coffee shop, 48 Main St. Sutter Creek
• Creeky Cupboard Gift Shop, 32 Main St. Sutter Creek
On Feb 22nd, from 6pm to 8pm, the Sutter Creek Auditorium at 18 Main Street, will transform into a magical room filled with twinkling lights, balloons and lots of colorful things to make the evening festive. There will be a DJ spinning all the favorite tunes that will get you out on the dance floor to dance the night away.
This year, enjoy dinner BEFORE the event at local restaurants, and come to the dance ready for fun desserts! The favorite table of all may just be the Desert Buffett with a Cupcake Tower and more delicious goodies! MMM…who could resist that?
This night is sure to be lots of fun and will create some very special memories between little girls and their Dads or that special someone in their life that they admire the most.
Questions or more information about the dance, call Victoria Spainhower 925-216-6415
More details also available at https://www.facebook.com/events/1395733580535197/
Click photos below to expand and scroll through …