4th Annual Sutter Creek Heritage Days
Sunday, August 8th 2020
Sunday 10am-4pm
FREE
Presented By: Sutter Creek Community Benefit Foundation
https://suttercreekfoundation.org
On August 8th, take a stroll through Sutter Creek's colorful past and celebrate its historic legacy. Come one, come all as we open the doors for you to visit the past and experience a bit of what it was like to live in Sutter Creek during the Gold Rush! Try your hand at Gold Panning, take a ride on a real stagecoach, hear historians tell stories of the past and visit Sutter Creek's amazing historical sites, some that are rarely open to the public. All this fun and it's free too!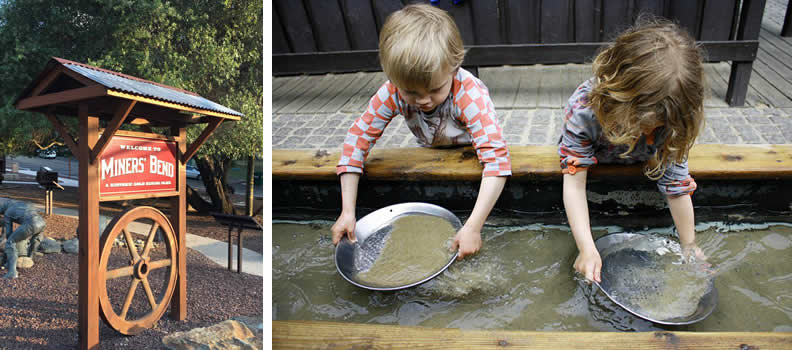 Sutter Creek is known as the "Jewel of the Motherlode" because of the rich veins of gold that were discovered there. During the Gold Rush, thousands flocked there to make their fortune. Over $160 million dollars in gold ($5 Billion by current standards) was extracted from this region between 1851 and 1942.
Self-Guided Tours: Maps will be available at all venues, as well as our booth in front of the auditorium. Be sure to pick one up and start your tour!
"Seldom Told Tales of Sutter Creek": Local Historian Frank Tortorich will do FREE walking tours on Sunday at 10 am and 3 pm, limited to the first 20 people. Frank will then do a FREE presentation at 1 pm, Sunday, at the Sutter Creek Theater, called "They Came by Sea".
Gold Panning at Knight Foundry: The earliest gold seekers worked the local creek and stream bed with simple gold pans. To celebrate those endeavors, at Knight Foundry there will be free gold panning demonstrations and, for a small fee, everything you need to try your hand at panning to see just how it was done. Then stroll through Miners' Bend Park, at the south end of town, and learn the history of the mines. The early mines of this area are featured on the interpretive signs of the park.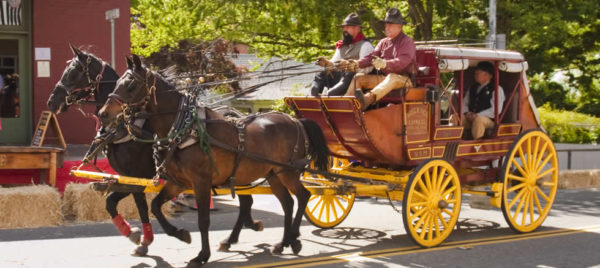 Stage Coach Rides and the Sutter Creek Visitor Center Museum: Stop by 71A Main Street and see the old photos and historic relics. Then catch a free ride on an authentic stagecoach, provided by "Doc" Wiser, from 12 – 3pm on Sunday.
The Central Eureka Mine, a short drive up the hill from Miners' Bend, will be on the map for you to visit as a representation of these famous mines. The Old Eureka Mine was first opened in 1852 and it was operated independently until 1924 when it merged with the Central Eureka Mine, the combined properties operated as the Central Eureka Mine, which is credited with producing $36 million dollars in gold! Hetty Green, the one-time richest woman in the world, was the owner of the Old Eureka Mine.
Sutter Creek's Original Fire Departments: Sutter Creek's old firehouse at 18 Main Street is now a Fire Museum and will be open to visitors. Sutter Creek's first fire truck is being recreated here in a 1930's auto workshop, along with the Firemen's Meeting Hall and other displays. Fire History Volunteers will also be on site at Sutter Creek's first fire house on Spanish Street and at the fire bell tower on Main Street at City Hall.
Sutter Creek Auditorium and City Hall: Located at 18 Main Street, this 89-year-old building houses locally painted murals depicting Sutter Creek's colorful history. We welcome you into the auditorium to watch as spinners, weavers, and quilters demonstrate their crafts of yesteryear.
Historic Methodist Church: At 14 Main Street, this beautiful church has all the charm of yesteryear, a sight to behold.
The Knight Foundry: Located on Eureka Street, is the last remaining water run foundry in the county. It will be open with the machines running and historians on hand to give you an amazing insight to the production that went on there.

Monteverde General Store museum: 0pened as a country store in 1896 and still displays all the paraphernalia of the past on its shelves. A local Historian will be there to tell you its' history.
Sutter Creek Historic Grammar School: The large, two-story brick building served as a school from 1870 to 1964 and is the second oldest 2 story brick schoolhouse in California. This beautiful schoolhouse is currently being restored by the Sutter Creek Community Benefit Foundation. Take a look at how much they have done and how beautiful it really is.
Ghosts of the Past: Stroll through the pretty neighborhood of Spanish Street to visit the Immaculate Conception Catholic Church Cemetery. Then take a short stroll through the pretty neighborhood of Spanish Street to visit the Immaculate Conception Catholic Church Cemetery. Then take a short walk towards the City Cemetery off Mahoney Rd., where you will find the final resting place of Samuel Knight and many of the pioneers that built our history.
♥ Food Offerings:
Humbug Hill Pancake Breakfast, 8 am to 10 am, Native Sons Hall, 56 Main St. Start your Sunday morning with a fun "Humbug Hill Pancake Breakfast". The Sutter Creek Fire Department will be grillin' flapjacks, Hygrade eggs and ham, and don't miss the Cowboy Coffee, sponsored by Native Sons of the Golden West, Parlor 17 and Sutter Creek Fire Department.
And, not to be missed, the delicious menu choices in all of Sutter Creek's restaurants.
Please come join the Sutter Creek as we celebrate the" 4th Annual Sutter Creek Heritage Days" on August 8th. For more information call 209-217-4857 or visit www.suttercreek.org