Historic Sutter Creek Ragtime Festival
August 13th – 15th 2021
Sutter Creek will be jumping again with the Annual Historic Sutter Creek Ragtime Festival, presented by the Sierra Foothill Ragtime Society. Come to town and enter an era of Honkey Tonk music, Boogie Woogie, Stride, Early Jazz and Ragtime. Some folks dress in the Great Gatsby Era attire, some dress in just plain craziness, or come as you are and enjoy all the festivities. There will also be 2 concerts on Friday night and Sunday afternoon.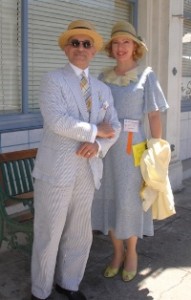 This Historic Sutter Creek Ragtime Festival runs for 3 days, Friday thru Sunday, August 13- 15. Festivities start at 4 pm on Friday afternoon and ends Sunday afternoon after the finale concert. Music is performed at four venues along main street, which includes 2 special concerts highlighting the performers. And of course, we hope to have Silent Movies with piano accompaniment at the Auditorium this year. There is almost always after hours jamming at the hotel and other venues as well.
An information table will be set up in front of the Auditorium/City Hall, to obtain your event badges, purchase t-shirts, music and the performer's CD's. Once situated you may now meander through the town and visit the unique friendly shops, antique stores, wine tasting spots and the fine restaurants.
For more information: http://www.historicsuttercreekragtimefestival.com/