Sutter Creek Ragtime Festival
August 10, 11, 12, 2018
Sutter Creek will be jumping again with the 20th Annual Ragtime Festival, presented by the Mother Lode Ragtime Society. Come to town and enter an era of Honkey Tonk music and hilarity. Some folks dress in the Great Gatsby Era attire, some dress in just plain crazyness, or come as you are and enjoy all the festivities.
The event features sparkling solo sets, the festival extravaganza concerts, mixed sets featuring the talents of several festival artists, plus all the hilarity and good music spilling on into the After Hours sessions where there is always a surprise player or two. Check back in the coming months for details about invited performers.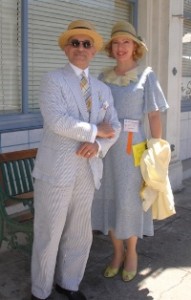 The festival is presented at five small venues:
The Ice Cream Emporium
Hotel Sutter
Sutter Creek Theater
Foxes Bed and Breakfast
Ragtime Garden.
Each offers exceptional views and are within earshot of the performers.
Early Bird Special
Sutter Creek Ragtime Festival Badges. Early bird badge prices are $70 until July 15, 2018; $80 after July 15. New this year, you can go to the website (http://suttercreekragtime.com) and pay for badges using PayPal.
There will be a $20 service charge for refunds requested prior to 7/15; no refunds after 7/15.
Reserve your badge now through the Mother Lode Ragtime Society:
11310 Prospect Drive #10, pmb 12, Jackson, CA 95642
Cash or checks only
All-event badges, as well as individual day and concert passes, will be available at the door as well.
Save the dates August 10, 11, 12, 2018 and we'll see you in Sutter Creek.